About Us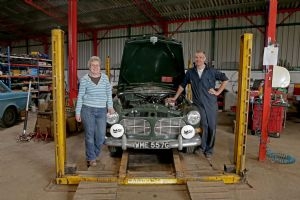 We are a family run business, specialising in Volvos of the 60's and 70's.
We courier new and used parts all over the world, and are constantly developing new parts to keep the classic Volvo driver up to speed.
---
Emma Henchoz
Competition: historic rallying (driver)
Background: Geologist
Career: Assistant Geologist, then I took to the sea as a Seismic Navigator, before having to go back to a land job with the arrival of Amy, our eldest daughter.
Past Cars: Triumph Vitesse; Chevrolet Blazer; Lancia Integrale; Volvo Amazon; Volvo PV544; Volvo 760 diesel turbo "6".
Rob Henchoz
Competition: historic rallying (navigator)
Background: Electronics Engineer.
Career: Royal Navy; Michelin Tyres; then a few years at sea in marine survey vessels before moving to Houston/Paris/Luanda (Schlumberger); and ARM.
Motorcycles: Suzuki GT250; Yamaha RD250LC; Yamaha DT125 (ideal in Paris!); Kawasaki Z1A
Past Cars: Ford Mexico; Ford RS2000; Lancia Appia; 205GTi; Toyota Landcruiser; Volvo Amazons; 140 Pickup; 164; P1800S; Hanomag transporter; 142 fun car.
| | |
| --- | --- |
| | |
| Rob | Emma |
| | |
| | |
| London to Cape Town Rally Deepest darkest Africa | |