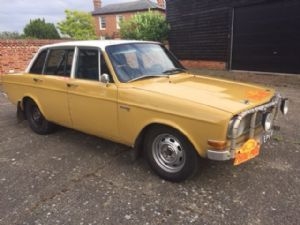 Volvo 144 'The Camel'
Here's a brief summary of "The Camel" 1970 Volvo 144 which is available freshly prepared for c.£22,000.
History -
EPH86H is a 1970 left-hand drive four-door car built into a long-distance rally car by Rob Henchoz for the 2012 London-Capetown Rally, in which it finished 6th overall and 2nd in class.
After being sold and reconditioned where necessary for the new owner by Amazon it did the 2013 P2P finishing 11th overall, 8th in class and winning a Gold regularity award.
After being sold in 2015 to me and again reconditioned and further improved by Amazon (details below) it was used as a replacement car for the European final leg of the 2016 P2P from Budapest-Paris, which it finished.
It was then reconditioned once more and has been in dry storage since then. It is is first-class, freshly-prepared condition, newly resprayed in sand/sable with a white roof
The car comes with a comprehensive technical file including DVDs of the original build, many invoices, a detailed account of the 2013 P2P rally, documents relating to the 2016 P2P, a bootful of spares including wheels/tyres,
It is 'on the button' and ready to drive across the globe.
Brief Technical Details -
Safety equipment includes a full rollcage, 2 x full harness seat belts, plumbed-in fire extinguisher system, foam-filled fuel tanks, and a 'cow catcher' front protective bar.
Navigation equipment includes a Garmin GPS and a Halda distance/speed computer. Twin Recaro fabric-covered rally seats (very comfortable).
Two-litre B20 engine was fully reconditioned less than 5,000 miles ago with an uprated cylinder head, new water pump, lightened flywheel, new clutch, ceramic-coated free-flow exhaust manifold, and many other new parts.
Four-speed gearbox (no overdrive) with limited-slip differential.
Suspension fully uprated with recent new Bilstein shock absorbers, stronger springs, etc. Brakes uprated with new discs.
Body/chassis prepared and strengthened as necessary by Owen Turner of Complete Rally Services – eg sump guard, protected exhaust system, raised boot floor, etc.
All fuel/brake/electrical lines run within car.
Twin aluminium foam-filled competition fuel tanks relocated above rear axle for weight/safety reasons.
Many sensible minor modifications to make on-rally maintenance and daily driving easier – eg built-in electric air pump/hose, daily checklist inside engine bay, twin fuel pumps plumbed-in, secure safe for documents, twin coils, etc.etc.
Many other modifications which are too numerous to detail in this email.
The car is eligible for a wide range of first-class international classic rallies and with its unique history of success in the past ten years it is steadily acquiring its own historic provenance and value.
I would like it to go to a good home.
If you are seriously interested in the car it can be viewed near Colchester, Essex.
Please feel free to contact me directly if you need further information.
Charles Cook
charles@attilaconsultants.com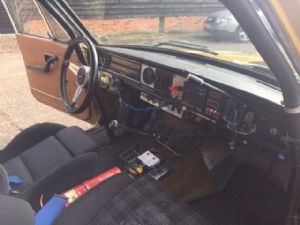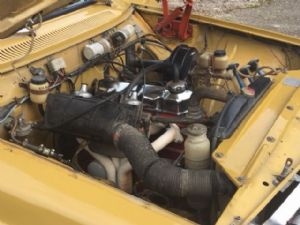 SOLD: Amys 145 For Sale: £3500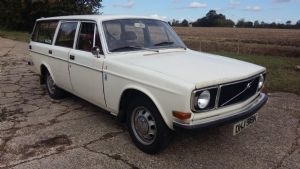 Amy's car for the past 3y, mechanically lovely, cosmetically it has "character". She took it for a month's motoring & climbing in the Alps, and a regular triangle between Suffolk, Yorkshire and Liverpool.
She's now working at sea, and so her much loved car ("Stanley") is no longer required.
1972
Early Strip Speedo
B20A engine in reliable condition
M41 with J-Type overdrive, very desirable
123 distributor
Brakes are just excellent, new discs and calipers
Conscientiously maintained by Amazon Cars during Amys ownership.
Mot'ed till Apil 2020
SOLD : Amazon 2 door Rally Car for sale £20000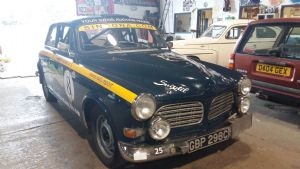 SOLD - LHD Volvo 130, Fully rally prepared in 2017 by Amazon Cars and Owen Turner.
Video of the car is at our YourTube channel: https://youtu.be/iWudW_Puia0
Enginge rebuild in 2017 to rally spec, compression still excellent and the engine feels quick and strong,
New SU carbs fitted
It has the stronger late type suspension, all parts replaced 2017
Body was strengthened in 2017.
All brakes parts replaced in 2017
Gearbox rebuilt
We built the car with Owen Turner and replace absolutely everything.
Quafe ATB fitted.
Amazon Cars long range tank fitted
Sump and steering guards
Brantz trip meters
The build cost was over £40000 in 2017, built to a P2P spec.
Its been on 2 South America Rallies since, but never used on P2P, as the owner decided to use a different car.
Car needs a good service after its South American adventure, and to be preped before its next rally.
Not MoT'ed or tax.
Call or Email:Amazon Cars