PV544 For Sale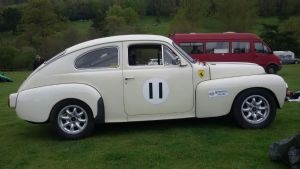 PV544: 1966
Same owner for over 30 years.
History of circuit racing, sprints and hillclimbs, at home and abroad. Well known car.
Holds class record on several courses.
Engine: 2000cc Fully balanced. Decked and skimmed. High compression head. Double valve springs.
Oil cooler.
Twin Weber 45DCOEs. Electronic ignition.
Electric water pump/electric cooling fan.
Electric fuel pump/pressure regulator .
Upgraded alternator.
Volvo 1800 extended gear selector; lightened flywheel.
Electric power assisted steering/12' steering wheel.
Disc brake conversion front brakes/Amazon rear drums.
2:1 brake servo; Mintex pads/shoes.
IPD antiroll bars, front and rear.
Adjustable gas shock absorbers.
Volvo LSD
Full steel rear bulkhead; full six point Safety Services internal roll cage.
I gallon fuel tank (hill climb/sprints) and 25 (?) gallon tank for circuit racing.
5.5J Minilite wheels / 5.5J steel Volvo wheels. Recent Yokohama tyres (?)
Racing seat; full 5 point racing harnesses.
Recent respray in Volvo Pearl White. A well loved, well used, well sorted and totally reliable car.
31,000 klms
Usually trailered; no active MoT,(see MOT history), but road going and easily legal.
Price reduced to Offers around £17,000
More details and serious enquiries to jamiejameson48@yahoo.com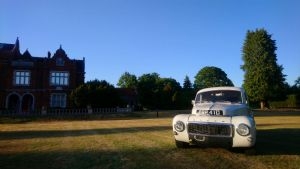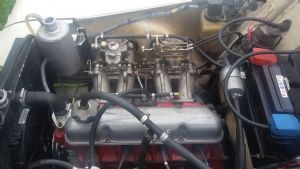 1958 Volvo PV444 Historic rally car £7500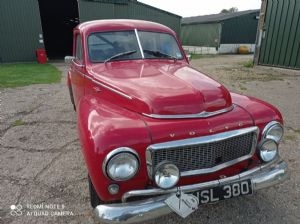 Here for sale is a 1958 split screen Volvo PV 444 with a tuned B16 with twin SU carbs.
The engine was completely rebuilt around 3000 miles ago by Bill Banister in Preston.
The car has been modified to make it more competitive over the years.
Notably, there is a four speed 144 gearbox, servo assisted 240 disc brakes, LSD, twin dampers at the front, a roll cage, fire extinguisher and a boot mounted fuel tank.
The car has been rallied extensively in the past and was once owned by Wesley Massam, who competed in it in the Monte Carlo rally twice. I
t is eligible to compete in the 1600 pre-1960 class and is very competitive in this field.
The car was restored in 2002 and had a re-wire at that time as well.
The car has been in storage for the last ten years and has seen little use.
It currently runs but will need recommissioning properly before being used competitively.
This is a seriously quick and nibble car for a 62 year old example and is great fun to drive.
The car comes with its original seats, spare wheels with mud tyres and a additional spare tyres
Contact Graham at grahambrowne@live.co.uk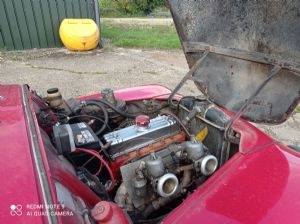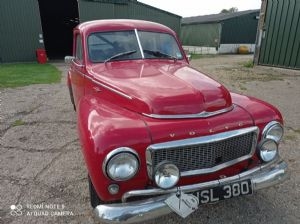 Volvo P18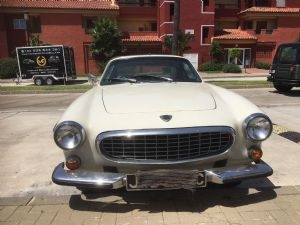 Volvo P1800S - C Registration.
Same owner for 23 years, been garaged in sunny climates for last 12 years.
Bodywork is therefore amazing for a 55-year-old car. No rust, no dents and no blemishes, literally like new.
New paintwork was originally done by South Service, London. Classic Volvo specialists.
Interior needs freshen up but is complete and all working. Original Webasto sunroof needs slight attention, but no rips.
Engine needs service - simply not been used enough recently.
New coil and brand new electronic ignition fitted.Lots of receipts/old MOTs etc.
IMPORTANT NOTE: The car is currently in Southern Spain and due to be shipped over to UK sometime in September.
Serious enquiries/offers by email only initially. Many thanks.
derek.smith883r@yahoo.co.uk