Cars for Sale
1969 131 shell for sale £250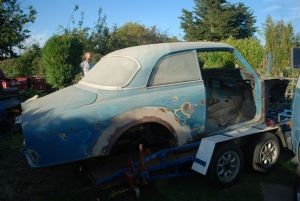 I need to get rid of it a couple of weeks as we haven't got space to keep it or store it.,
I have got more detailed shots if anyone is interested.
if its not gone by the end of next weekend it will get cut up/scrapped as we need it gone, I don't want to scrap it as it would be do-able to get it back on the road, the shell is bare with not suspension or anything it is a body with glass, complete pair of doors a pair of front wings, maybe the boot that may be sold and a front panel can be included.
Alice
Amazon 132 Historic Rally Car: £15,000 - DEPOSIT TAKEN
Regular competitor on HRCR and club rallies
Specifications

B20 twin carb: Isky 280cam, scalloped flywheel, twinspring superflowed head, 7000rpm
Zircotec'd manifold & louvred bonnet for reduced temperatures; alloy cooling fin diff cover
Twin circuit brakes, rears converted to uprated motorsport adjusters
Fuel and brake lines routed inside the car
Amazon Cars sump & steering guards, P2P specification
80litre P2P fuel tank, twin Facet pumps, FilterKing
Polyurethane bushes, Bilstein gas shocks, roadrally roadsprings, on 185/65R15's
Cibie headlights

Interior

Original Bosch wiring for the standard circuits; independent fuse & relay board for rally ccts
Navigation area set up by a navigator!
Brantz clock, International2 trip, speed/time/distance flipcards
Superb "cold white" LED lighting for night rally; map light
MGZR front seats

Competition History (plus a host of local motorclub events)

St Wilfrid's 2018 yet to come Rob Henchoz & Amy Henchoz
Hughes 2018 15th/8th Simon Heath & Amy
Stockport 061 Targa 2018 27th Amy & Rob
KDMC Targa 2017 40th Amy & Joe
Vale of Clwyd 2016 24th/5th Amy & Rob
Washingpool Targa 2016 39th/3rd Amy & Simon
EAC 2016 24th/6th Amy & Rob

Contact Emma & Rob at Amazon Cars
Leave feedback about this video or ask about parts used
To submit a car for sale on this page (3 month display period): volvo@amazoncars.co.uk NB: cars advertised on these pages are described at their owners discretion; Amazon Cars does not accept any liability for 3rd party misrepresentation.
Volvo PV544 road rally car For Sale
PV544 For Sale £23,500
Mike & Lorna's trusty steed 'YAF 958A' with good rally pedigree is now up for sale, perfect for HRCR Historic rallying, the navigator's office is set up very nicely for regularity.
Brantz: International 2 Tripmeter, and rally clock
Navigator's footrest, and LED lighting, plenty of storage pockets
Lucas 20/20 aux lamps; Raydot Fog reversing lamp
Maxxis R19 rally tyres
Beautifuly louvred bonnet, and Zircotec'd manifold, to prevent fuel vaporisation and optimum power.
63litre rally fuel tank, with Facet backup fuel pump; boot lid is securely held open by gas strut
Panel airfilter: for optimal power, cool air, and impeccable "fording" behaviour
5 blade asymetric fan for engine cooling
High efficiency inline exhaust system, almost impossible to damage, secured by engine mounts
Solid sump and steering guards fitted to seam welded and strengthened crossmember
Disc brakes at front
Joghinder Singh twin shock absorbers at the front
Recent Rally results
2015 ERA TransAmerica 12th overall
2015 Rally of the Tests 9th overall (pre 62 cars only)
2016 Vintage Sun Run
2016 Rally of the Tests 14th overall (pre 62 cars only)
2017 ERA Baltic Rally 30th in classic class and 39th overall
but running in top 3 for majority of the event until the panhard rod went
Previous history at http://borderreivers.co/portfolio/volvo-pv-544-1963-rallyrace-car/
Please call Emma or Rob at Amazon Cars for more details.
Leave feedback about this video or ask about parts used