Panel Airfilter Box kit: RHD Amazon & P1800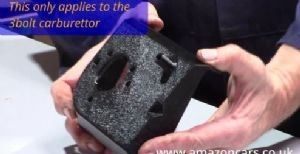 Panel Airfilter Box kit: RHD Amazon & P1800
The problem with independent airfilters in our Volvos is that the intake temperature of the rear carburettor can be about 10deg hotter than the front carb, ie cylinders 3&4 are running far less power than 1&2.
This kit solves the problem, and permits you to draw cold air from the front panel also.
The base is printed in 2 parts from PET-G, the filter and top cover are available from us or Volvo.
The 3bolt version comes with a choice of breather tube or blanked off.
P1800, Amazon