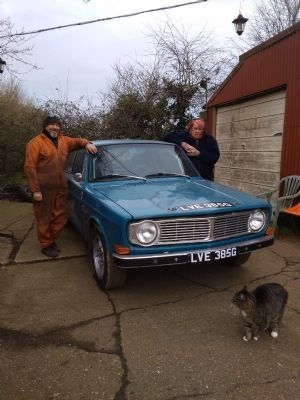 With the arrival of our high quality Prusa 3D printer, the possibilities for the classic car owner are primarily limited by imagination; we've had a superb response from our YouTube subscribers' suggestions, here is the list...
Amazon/P18 heater fan "blade"
Sun visor clips (I need to check which we can still supply as new parts)
Late Amazon boot handle (for the competition folk: weight reduction)
Steering column "cancelling" collar - which often goes missing when steering wheels are replaced, causing loose inner column movement
Amazon "grab handle" clips, this is the one above the B-pillar of the 120 series

...and the handle end trims, which have all decayed by now...

Coil base to mount modern Bosch coil in place of the Amazon/P1800S unit.
Early 140 front indicator lamp base
Now some of this needs a 3D scanner, so right now we're justifying the R&D expenditure, I think we have a decent argument, although the payback might be longer than our accountant would countenance!
Amy's 142 came back from the rollcage installation, the Norfolk boys did a top notch job with it, albiet a tad overkill for a road rally car: that said, it is protecting my eldest daughter, so I shouldn't begrudge the extra bars' weight!
It is currently with Nigel in the Pulhams, who is spraying the body & cage in situ, white for the floorpan, and the aluminium louvred (Competition Fabrications) bonnet in our trademark matt black, gloss white underside.
I should have the navigator's and switch panels today, however I'll have to wait for the car to return before progressing with the wiring installation.