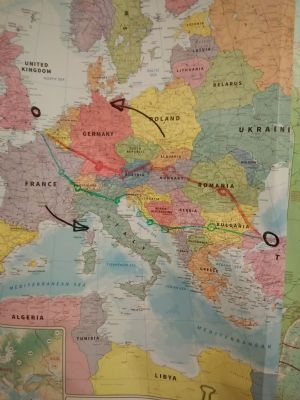 We've just had two early B18 Amazons through the workshop, here's a summary
Neil's was a delightful drum braked car, with awful braking!

All 4 drums were badly scored
Someone had fitted the new wheel cylinders the wrong way round: big at the back, small at the front.
Sadly we can't get front drums anymore, and as this is a daily driver we chose to convert to front discs and sort the rears out
It took us a while to realise that the rear wheel cylinders were wrong, but once we had the brakes were superb!
As for the overdrive: how can installers get it so wrong? No inhibit switch, which means the OD is going to fail when reverse is engaged whilst the OD is on. And they'd made the propshaft too long, and tried to prevent it from detaching by use of many zipties - so they knew they'd bodged it.
The engine is very much over the hll, and is booked in for a rebuild later in the year.

Mike's was another early B18, but this time a disc braked car

Sorted the brakes, which didn't need a great deal of work
Once again, no inhibit switch on the OD: which is why the OD slips out under power and needs rebuilding - ridiculous to deliver a car like that.
And the engine is also rather over the hill, plenty of greasy soot around the boot to explain why it won't happily do 70mph.
Amazon Cars will be shut for much of May: whilst we drive down to Istanbul and back for Emma's 50th.
Our route is vaguely southern outbound, and slightly more northerly return.
We're probably taking the V70, since it's so economical (45-50mpg, and over 600mile range), however Sophie's 245 (30mpg, and 200mile range) is still a possibility since I can sleep in the back (the V70 is far too short).