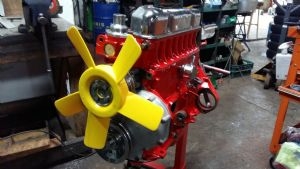 It was a jolly busy Christmas period, although I did manage 3 days off: Christmas Eve, Christmas Day and NYE - everyone say "aah, bless!".
However we are now beginning to see a way forward...
Don's USA PV544 now has its 5 speed (Type9) gearbox all running nicely, replacing its failed M41 overdrive unit - Rob Kitchen did the transmission tunnel modification, and resolved the issue he discovered with an overfat Type9 friction disc, which caused a day's scratching of heads both up in Norfolk and down here in Suffolk!
Rob's truly and excellent fabricator and very top end technical work, I can't recommend him highly enough.
Ludo's 205GTi now has new front suspension and sumpguard, and better crankcase breathing, so we hope he won't be consuming so much oil next week on the Winter Trial in Scandinavia.

The (standard) 185/60R14 tyres have been replaced with 145/80R13 winter tyres, since we expect snow on the rally...

Paul came late last week to fetch the Peking2Paris components for the Amazon they're building...

B20 engine, twin spring head
LSD axle: superb Gripper unit, infinitely superior to Quaife's ATB product
M40 gearbox, simple rebuild
Plus a host of other components to continue the build

Emma's old Amazon 121 was a neighbour's wedding car on Saturday, and behaved impeccably
Our PV544 "GAS 685" is with Brian Gue having some impending rot cut out and made good before it becomes an MoT issue
I had to spend Saturday in the Sud Tirrol (I think, Ulm anyway!) and Hertz upgraded my little Astra to a BMW X1 M-Sport, well...

Certainly it's luxurious and insulating, with pleasingly efficient heating after I had battled my way in the driving sleet to get to the car
I confess it took me 10' to work out how to get the gearbox out of Park, but I got there in the end.
Boy is it heavy!
Unbelievable just how much middle executive superfluous weight that car is having to haul around, whilst everyone might be praising the engine's power output, I suspect the power/weight ratio is very little better than our 1960's rally cars - it is little surprise that manufacturing these new cars are costing us dear ecologically.
Don't get me started!

Motorsport?

Amy was out with Niall in her MX5 on the Stanta Targa, and had a good run although we were all sorry to lose the huge 4mile section due to deceptively slippery patches
Gareth came down from Pwhelli in his Amazon to compete there with me also.
On Saturday Amy was on her first Carpetbagger in a very successful Mk2 Escort

Now I've never finished the 'bagger...
First attempt was in my 142 with Eric, and the exhaust manifold broke up by 3am: on a snowy airfield, blisteringly cold!
Then out with Isaac in his 205: "crossroads, straight on" called I, about 20s before we came to an abrupt halt into a T-juntion bank (it was in fact a staggered x-roads sadly); we lost all our coolant
Amy came in 14th just behind Lizzie Pope, on a very icy event
Niall sadly didn't finish, retiring with a broken fwd drive shaft
And very sadly Dan (in Niall's father's PV544 that he won the RAC Rally with) hit an unexpected patch of ice around 0530 and 5miles before the finish, badly damaging a front corner of the car.
Well, I have an early B18 Amazon on the ramps, the front drums are nastily scored (and unobtainable) so we're converting it to disc brakes...