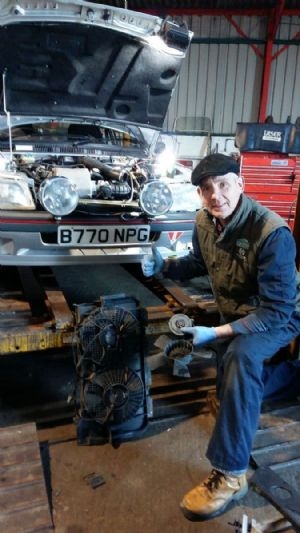 The last quarter of 2019 continues to be relentlessly busy, all very satisfying to turn out cars so much better than when they arrived!
Ludo's 205GTi completed the Lands End to John'o'Groats rally, the navigator had never been in a rally before: a superb outing for all 3 of the team. Three issues reported...

Rob Dominy (Chief Scrutineer) called me on the Thursday night: "how do you switch off the auxillary lamps on dip?". Those lovely new PIAA lamps use H4 bulbs, so they can run on dipped beam which is how I wired them; however the regs state that the auxillaries must extinguish on dipped beam. Fortunately I had foreseen this eventuality, but failed to include it in my late night handover to Ludo on the Wednesday: "find a standard relay, and exchange it for the relay marked "AUX" atop the dashboard".
Problem solved!
Saturday am, a disgruntled Ludo emailed me about having no oil, "did you check the level before we left?". Turns out that the crankcase was pressurising and ejecting the dipstick. Ludo reports that he got through a couple of 5litre tins of oil on his way to John'o'Groats.
But then not a drop from JoG to us in Suffolk.
So, having planned an urgent engine rebuild before mid January (he's out on the Winter Trial in Scandinavia on 26th Jan), Ludo then decided that we would stick with the engine as it is.
A knocking from the front suspension, so we have new Bilstein struts, and will rebuild the front end on 2nd January.
Which leaves some nice tasks to complete...

Sumpguard, which is very manly indeed!
145/80R13 winter tyres, replacing the current 185/65R14's currently on it, and will be superb on snow.

Jamie's B18 PV544 arrived, complaining of poor running and no power: "sort it" was the instruction.

Well, the compressions were okay, although #4 was down at the limit of acceptability.
The ignition timing was horribly retarded, sorting that improved it no end
The (Weber DGAV) carburettor was perfect except for idle, which was very rich indeed making it difficult to start
The front suspension & tyres were dangerous, about the worst we've ever known

New LH kingpin (video now graces our YouTube channel)
New RH UWB outer kit
A set of good Michelins all round, replacing the Firestones. The Volvos never like running Firestones, yet I recall in my youth we all wanted to fit them to our Escorts (a 1300L, then a 1300GT, then a Mk1 Mexcico, finally a Mk2 RS2000 before the 205GTi tempted me to sell the RS!) - yet they are always horrible on Volvos...

Oh, and on our first test drive we discovered it had no syncho on 1st gear: the cone was heavily cut into, and all 3 dogs had their ends missing - nice new gearbox built and it's lovely.
Anyway, the car is now much nicer to be in, and with a set of decent headlights is ready to go...

And whilst all the above was going on, we have some capital component builds to sort out for a Peking2Paris Amazon that ScottSport are building...

Gearbox, standard M40, fully rebuilt
Axle: I need to fit an LSD from Gripper - their product support is excellent, and they are a delight to deal with - Quaife could learn a lot from Gripper.
Having got stuck on the Prelude of the RAC Rally of the Tests in November, I'll be removing our Quaife from GAS, and as soon as I can afford it replacing it with a Gripper LSD - with which we would not have got stuck!
Engine: so our usual twin valve spring high lift motor, but NOT gasflowed. I have come to the firm conclusion that whilst gasflowing clearly gives a better output at the redline, that is always at the expense of driveability in the rest of the rev range. I shall be removing the gasflowed head from GAS 685 in the coming months.
That's about it for now: as our Texan daughter might say "y'awl have a great festive time, y'hear" (if she spoke like a Southerner) - and thankyou for reading these sporadic musings over the year.
Rob & Emma