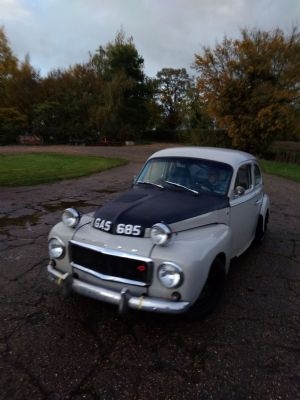 What a month! PV's galore...
Don's PV arrived from the Adriatic with overdrive failure, and a cracked lower wishbone, and very soft suspension...

We'll sort the overdrive at Christmas
LWB has been replaced
Amazon Cars' road rally springs installed.

Mike & Lorna's PV arrived from the Adriatic

Routine service, plus a few additional navigator requests
Gas flowed cylinder head replaced with "standard" item (although it has twinspring valves) - this is a superb improvement and leads me to confidently say "don't waste your money on buying our expensive gas flowed heads, the stock head makes for a far better road car" - it's marginally quicker 0-100kmh now, because of that boosted torque curve mid revs (at the expense of redline power).

Emma's PV

Amy picked up a last minute entry on the RAC Rally of the Tests okn Monday, so I'm setting off to Torquay at coffee time for Thursday's start. Sunday's finish is back in Chester again.
I've fitted our modern wiper motor kit to the car (and YouTubed the task), following our loss of a wiper spindle on the last day of Iceland
New Brantz clock fitted, since Amy gets cross with my original 15yo unit!
Interior carefully cleaned and glass polished, exterior still has Iceland dirt...

What next?

Mike & Lorna come for a shake down next week in their PV544
Ludo's 205GTi has arrived: we have a month to get it rigged for the LEJoG event - really looking forward to this, since it's been 15y since we (bitterly) sold our 1.6GTi
Standard P1800 spec B18 motor being built as we speak, should finish that next week
We have 3 (three!) top race builders creating competition cars, so we're very busy supplying parts (and knowledge) to them: three rally cars, and one race P1800
Well, lets see how the RAC rally goes: we're very excited, particularly since Amy expected to be back at sea today (delayed crewchange, in Columbo: I was there in HMS York, 1986 perhaps?), and I never expected to be out on the event...