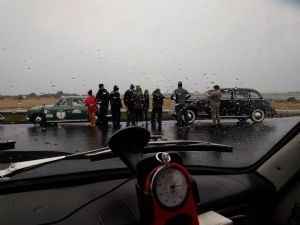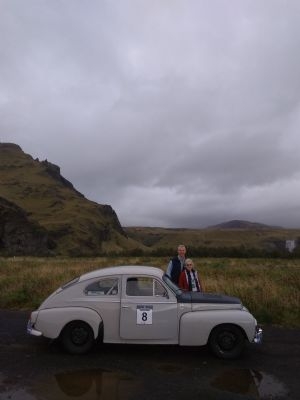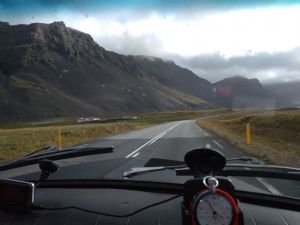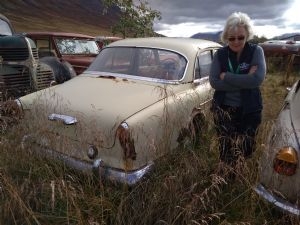 Iceland was remarkable: just as Amy had told us and Emma had hoped the geology was riveting; and HERO's Saga rally was excellent.
In brief, the event started in driving rain outside Reykjavic, and progressed in an anti clockwise direction around the island.
It resolved itself by Monday to Owen/Rachel and Seren/Elise battling it out for 1st & 2nd, with us mortals competing for the next places. Incidentally, those top 2 places were by no means "simple", both crews were consistently hitting 0's and 1's on Regularity, Owen frequently getting fastest on Test, with Elise keeping tight on those Regularity penalties.
We started pleasingly well, approached Reg2 on Day1 (Saturday) a few minutes early and shut down the engine. 90s before our due minute Emma pushed the start button, and absolutely nothing, no starter motor at all! Fortunately we were pointing downhill, and a brief shove from me saw the motor burst into life.
This became the starting procedure till Tuesday night, when the new unit arrived by air courier organised by Tryggvi (Chairman of Iceland MSA) and sourced by Iceland's Classic Car Club: thankyou to all involved! it took 12' to replace.
This cost us a shade under £200 delivered, and more importantly almost no competitive penalties - to which we owe a debt to all those crews that push started the PV in the mornings and TC halts.
I say "almost": Tuesday saw the Le Mans Test: one crew sprints to the car, straps in, driver starts the engine, then 1st, 2nd, 3rd gear sprint to the finish line.
At this point we were lying 4th overall, reverse seeding. So Seren & Elise chose to take the previous test before us, pull over, and with other crews and marshals push started us. Well, it would have been easier had we not knocked off the ignition switch, and had we used 2nd and not 1st gear! Thankyou so much: that video is excellent, and can be seen on Facebook.
Thursday morning, penultimate competitive day, we had held onto 4th and having a great battle with the Liddells, and Christian's BMW... and then I firstly failed to write down our Self Start regularity time: 30s penalty; and then sent Emma up a track that clearly wasn't intended by the organiser, another 30s penalty. Navigator errors, unforced, and just so stupid.
Anyway we had a good final day to make me feel less foolish, and Rod/Clare held onto 7th, with us 1s behind them at 8th.
Right now the PV is snug in the shipping container with Christian's BMW, we should collect them in 10 days.
Fault list for the event?

That starter motor: given the very flat battery when we fetched the car at Reykjavic docks I suspect an Immingham handler fried the starter.
Wipers, 1: the earth spade connector dripped off - this was a known issue that I hadn't sorted! And the rough sections simply shook it off.
Wipers, 2: on the last day in rather heavy rain the driver's wiper flew off mid-competitive, Emma drove on for the last control, hitting another sub 2s penalty. The conditions were awful, the marshals just cannot be thanked enough for their stalwart performance in some dreadful driving rain and cold conditions. We owe thanks to Alastair Caldwell for leaping outside into the deluge to fish out a bottle of RainX for us.
I'm pretty sure we're going to replace Volvo's unit with CarBuilderSolutions' "universal" kit, which we've already fitted to the Harrison's PV.
A few bullet points on the Iceland experience...

Extraordinary vistas, changing hourly dramatically
Waterfalls, streams & rivers
The blueberries we ate after scrambling up a ravine to a tarn
The thermal springs
The bubbling mud pools
Geysir
Learning how to sit in a 5deg plunge pool for >2', and wandering around in swimming gear in 6deg air temp and a F7 blowing - the 44deg seawater tub helped!
Generally great food: the lamb was the best we have ever tasted; and the fish was predictably delicious.
Transport Museum, Peace Museum, the Opera House in Reykjavik, all wonderful in their different ways.
And the people? The Organiser's team were wonderful, the event went slickly, the competitive sections were challenging to experienced and novice alike. The competing crews developed a camaraderie that was a delight by Tuesday, and got better, for example at the awards dinner we shared a Mid Autumn Moon Cake (I think that's right) with one of the crews. Gestures that illustrate the universal friendliness.
Their should be some video at the
HERO
website, and the Facebook pages have loads of excellent bites.