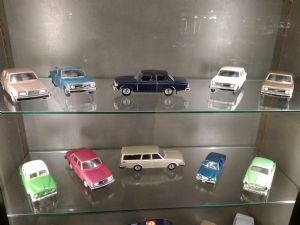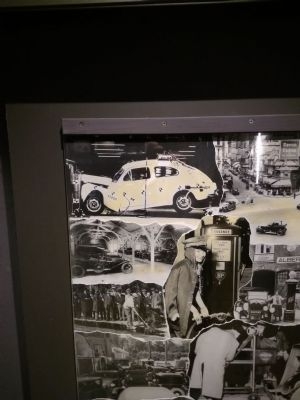 We're back from Brittany: what an excellent part of France! The weather was perfect for walking the 12yo spaniel (she still covers a 3h hike easily, despite having a sarcoma on her snout), the locals had a ready smile and happy to joke (I only got a few of them), the U-boat pens at Lorient are remarkable, and the Manoir d'Automobile near Loheac is just superb. My father in law rates this motor museum above Beaulieu and even Schlumpf, and I can see why that might be the case.
One of our hikes we were delighted to see a Traction Avant coming round the corner: there was nothing in sight to suggest we weren't actually in 1948 except our clothes.
As for Thursday 15th (a jour ferie) in Montertelot, fantastic music all afternoon and evening: having cycled to the Resistance Museum in St Martin in the morning, Emma and I returned to bed after midnight: the dance floor was never less than heaving in all those 8 hours of music: Breton dancing is not unlike a very technical Texas Linedancing (no insult intended, to either nationalities).
Returning at 2200 on Saturday night I printed out the Finals for Sunday's 12car Rally organised by Ian Doble and Percy (SCCoN), we got the PV out at 0600 Sunday and had a pleasingly taxing day on the 4 Regularities. The last in particular involved 4 speed changes in the last 4km, all occurring at road junctions (so you couldn't predict the calculations). This is where the Curta proves is mettle, and we came into the final control with 1s penalty.
Sadly it was a poor turnout for such a professionally organised event, more so since the elegance of Ian & Percy's planning was a delight: Breakfast at Tibbenham Airfield Cafe - RegA set off to the NE, anticlockwise finishing W of the cafe; RegB set of S to finish at the cafe for coffee approaching from the SW. RegC set of to the N, ie inside of RegA and proceeded anticlockwise again to the start of RegD which finished on the "white" for the airfield. The marshals can't have travelled more than 5km from HQ - beautiful organisation.
However on the event Emma discovered the clutch wasn't right, ending up with me driving to Thetford (to pick up Sophie's Midget from the station) back to Amazon Cars without any clutch at all - it's been a while since I've done that, about 30y! The mechanical linkage had lost a pin and so had very limited throw, however given that we haven't looked at the clutch since 2008 I decided to go the whole hog and replace the friction plate on Monday.
Tomorrow the PV will be delivered to the shipping agent in Immingham for its passage to Iceland for next month's rally...