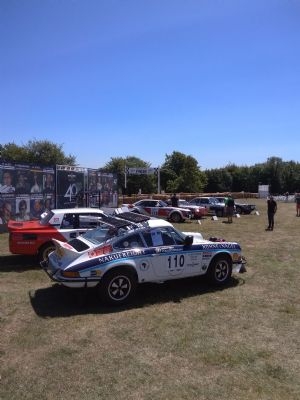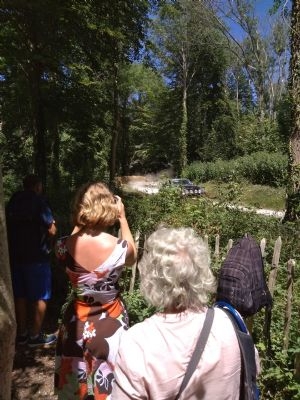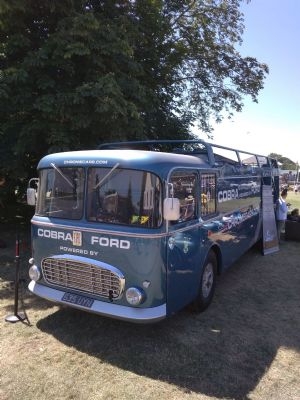 Amazon Cars all headed south for Thursday, to the Goodwood Festival of Speed.
Sadly my friend Paul, who shares his GRRC largesse of free tickets with me each year had work commitments, however the entire family turned to in place of him: Emma, Amy and myself in Sophie's "new" 245; Sophie came across from Horsham in her Midget.
This year we got there for 0800, and had an easy queue-free entry into the carparks (no elitist parking at Kennels, since Paul wasn't with me).
My take home vehicle? The Cobra Transporter!
The rally stage was excellent, and we had some cool conversations with owners in the paddock. Particular thanks to the Francais who spent 30' telling Amy and me about his 205T16, in a mixture of my (rather non) technical French, and his Franglais - he'd blown the (ethanol) engine two weeks ago, and rebuilt it in time for the FoS. Then the Quattro owner, showing us the modifications done for modern convenience, ie electronic fuel injection and coil packs; and the TwinCam Escort owner also.
And was that Solberg's son showing us all how to take a hairpin left at full chatter? I'm pretty sure it was Petter himself wandering around the paddock.
Apart from the T16, I spent a little time lusting after the Renault Alpine also - they're so beautifully put together.
As for Volvos? None, I didn't even see their tent and suspect they had no presence. There were however a brace of 99 Turbos representing Sweden.
Well, it's back to work for Friday

Put front number plate onto Amy's Targa MX5
Fit battery cut off to the MX5
Grease up the PV544 front suspension
Full spanner check on the PV: it hasn't been used since September's Devil's Own rally

Saturday: head to Malton for scrutineering: our PV, Amy navigating, me driving... on the White Rose