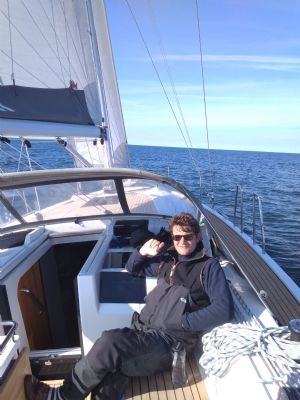 It's Norwegian National Day: since Emma & I met in Bergen in the 90's whilst working onboard Norwegian survey vessels, we always like to cheer today!
Oh, and it's also the birthday of Dicam's MD...
We have a local P1800S that has "never run right" and been through two owners and several garages since its engine build - now it has arrived at Amazon Cars to be sorted...
123GT is leaving tomorrow after gentle fettling: its owner is delighted with our standard build engine
Emma's PV444 is progressing again, the door furniture is all getting loaded in
Resulting in another epic YouTube video, which should assist and save time for anyone following our footsteps when rebuilding their 444/544 doors
Classic Car Buyer is an excellent tabloid format newspaper, with articles on vehicles that we can comprehend buying. The final page has Iain reminiscing about clambering up 3 high stacked cars in the local breakers yard, teetering around removing all sorts of kit. In my case it was York in the early 80's, the yard was Bootham or Clifton I think (there was a spit'n'sawdust pub on the city end of the road, that I loved: truly sawdust on the floor), and I was running Mk1 Escorts at the time. A 1300L, 1300Sport, and finally when I left the university a Mexico; the scrapyard provided a host of upgrades and running essentials like bumpers (rear ones off the Escort van, ie Mexico front bumpers), starter motor, all sorts!
Last week I was crewing on the delivery of a Hanse 415 yacht from the Hamble to Pwllheli, a delightful starboard tack once we had rounded Land's End

But then I drove Gareth's rally 120 from Pwllheli home, Within 10' the "vague gearchange" had revealed itself: I had just missed my turning for Welshpool, went forward into a drive hit reverse for the 3pt turn, and found that the gearstick had sheared off completely. I'm now blocking the entire A road, stuck in reverse, with the tail touching the hedgrowed bank behind me.
Unlike many places in the UK, help leapt out of their cars: a lady from her convertible (hood down of course), a couple of whitevan chaps, a fellow in suit en route to the office. Clutch in, they pushed me back into the driveway, and with cheery waves the two queues of traffic dissipated instantly.
I found a 17mm socket and extension bar in the boot, which fitted over the sheared stub of gearstick neatly enough, and continued the 300miles back home, and into the office before 4pm.
However the main point of the story is that this was one of the best drives I've ever had, ranking with Big Bend of Texas, and bits of the London2CapeTown rally. Glorious sunshine, windows down the whole way, terrific roads from Pwhllheli to Shrewsbury, then Bury St Edmunds to Amazon Cars. Even the M6/A14 couldn't detract from the shear delight.