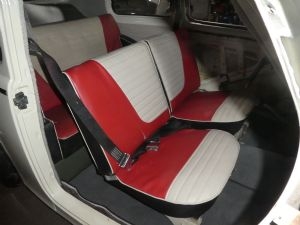 That's a view of Emma's PV444 interior, just in case I hadn't published it already!
Well, I headed gently northwest last Wednesday, stopping off in Grantham en route before meeting Amy in Liverpool: off we pottered under the Mersey to Birkenhead to visit U-Boat U534.
I have been a guest on 3 submarines in an earlier life, and this is a poignant memorial to all nations' submariners; however the U-Boat itself is difficult to see, the sections being kept safe by sheets of polycarbonate which makes seeing inside very difficult.
Anyway, Wednesday midday we met again at the Heysham ferry, bound for the Isle of Mann and the Three Legs of Mann historic rally.
In brief, it was a superb event as ever, Friday night's section being a delightful challenge for both navigator and driver. Sadly Roger T's exhaust was ripped off in its entirety early in the evening, so he & Amy dropped controls as they headed back to HQ. Pleasingly they rejoined on Saturday morning after a sterling effort to get it fixed. However that put paid to their competitive event, they were just there for the fun and to record a finish.
As for myself, Gareth had last minute work commitments and couldn't make it to the event, so I headed across the water to help marshal; on arrival Tony hailed me to say that there was a driver without a navigator, resulting in me sitting with novice driver Dennis de Roos in his Audi Coupe for the event. We had a lovely time, I was pleased with my mapwork and timings, and Dennis got his introduction to night sections!
There was a pleasing number of Volvos on the event, Tony nursing his PV544 home, but sadly Valentin and his dad had their alternator fail completely and had to retire.
Back to work now, and finishing off Barnaby's 220 estate, which should be very nice to drive now...