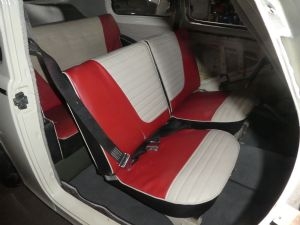 Burning Men - this film features an Amazon, but sadly I'm on the Isle of Man when it comes to Suffolk
Thankyou to Paul Shearsmith for this tip: it's his Amazon!
Barnaby's 220 Estate is on the ramps this month, a reasonable list of remobilisation issues that's accumulated during its time in a collection.

The front discs were almost worn to the drillings (the holes drilled radially on the circumference to balance the disc), about 10mm (minimum spec is 12.2mm)
The radiator is very dusty, always a sure sign that its cooling is well below par, so I'll replace that today
We'll pop in a 123 Distributor with our unleaded fuel advance curve, since the car is going to be regularly used
The gearbox top is horribly worn, resulting in grazed knuckles when selecting 1st and 3rd gear.
A nasty 1mm of end float in the back axle has been corrected
The rear brakes are perfect, just needed adjusting

Emma's PV444...

The front seats came back from Kevin (Cattermole, Ipswich) who had done a lovely job of fitting the new covers that we supply, at a surprisingly low price
So we insured, and taxed it: and gave it a quick test run on the open road

Developed an occasional misfire: so I fitted one our 123 Distributors which resolved it beautifully
Heater matrix seemed less hot than expected, so I've run some rad flush through it.

Then a nice run to Diss and back: about 26miles

The front brakes are binding a bit: I shall have to take 1mm of metal off the discs
Having brimmed the fuel tank there's a strange leak from the fuel tank: leaving a container beneath it resulted in a cupful overnight, so the leak is high up in the tank...

Tour of Cheshire last weekend

I met up with Gareth Hockridge and his Amazon on Friday night, successfully scrutineered, then spent Saturday working far harder than anticipated: the tripmeter randomly reading high during Regularity A, came back briefly in RegH. We managed 20th overall, which was pleasing under the circumstances.
Amy teamed up with Martyn Taylor in his Astra, running 5th for most of the event they finished 6th overall, on a very competitive rally with the top crews out for the start of the season.

Isle of Mann comes up in 10days time, I'll be out with Gareth and the Amazon again, Amy is out with Roger Tushingham and the BGT again.
The week after it's the North Yorkshire Classic, Amy's out on that, but not sure whether it's with me in the PV544, or Martyn and the Astra...