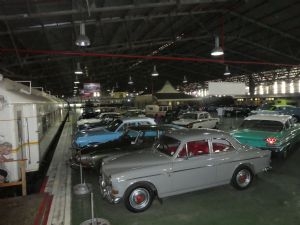 We're back at work after an all too brief trip to South Africa.
In brief, the trip consistted of
Spectacular drive Eastbound on the 62, before cutting SE to George
The transport museum in George is not to be missed: outside there are two massive Garrett locomotives, clearly were parked up before the storms of 2015(?) damaged the coastal tracks, and haven't been used since. Everything looks in working order, the firebox doors open freely, and it's been fully cleaned down. Sad that they no longer have a track...
At the same museum our customer Johan has many vehicles, including his PV544B18, and B20 Amazon - he's on the lookout for a good P18, and indeed a 142.
Heading East to Knysna we took the logging track out towards the old gold mine town of Millwood, but sadly the canyon crossing no longer exists so we turned back - our 3cyl Datsun managed this typical logging road in the rain with ease, much to the amusement of the timber company employees.
As we continued to Port Elizabeth there were scores of interesting cars heading West for the George Classic Car gathering, both on trailers and being driven on the N2
As for Emma's PV444, the box-of-bits is pretty much a road going car
The front seats upholstery is being fitted by Kevin (Cattermoles, Ipswich)
The door window mechanisms need to be fitted, when we get the quarterlight seals and felt kits
The wiper arms need replacing (no tension springs)
and that's about it, before we hand over to our MoT guys...
There's a video on our YouTube channel
Whilst on the topic of our YouTube channel, I've also put a video there on fitting door seals; using the 444 as an example this applies to all our era of Volvo door seals, and also others like the late Amazon bonnet seals.