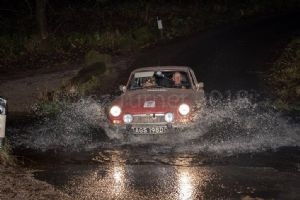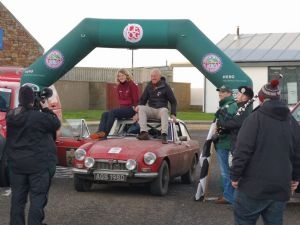 So LEJoG has come to an end, the last leg requiring the crews to be in their car for about 26h before being greeted by the Lone Piper at John'o'Groats. They had plenty of rest halts en route, but that's still a tough haul for the navigator in particular.
Scanning down the lists, I'm pretty sure all the Volvos finished the event: Amazons and 140's (no PV's have done this for a while now).
As for the event, Emma & I spent a lovely night in the Hundred House Inn from 2300 to 0230 on Sunday manning the out control: chatting to old friends and new crews alike, many of whom Emma hadn't seen in years. After that we had to make do with sporadic texts from Amy and watching on Google Earth the locations that the rally should have reached at various times.
Surely it's time to start putting GPS trackers (or simply track the crew's mobile phone) to make it more exciting for those of us armchair rallying?
What of Roger Tushingham's MGB GT, navigated by Amy?

She's posted 1st in class, and 1st overall, at the end of every leg;
and climbed back into Gold Medal status after a couple of confused tests in the West Country.
We are now waiting for the results to go Final to see if she held onto that position in the final Leg5.

Whatever the final result, Roger has clearly put together a superbly prep'd car, and driven an excellent rally, allowing Amy to perform at her best.
Excerpts from the rally reports

Eng of Leg2: The Tiverton Test was a tight and twisty challenge that provided many lakes for cars to splash through, some misfired as the water sprayed the engine then cleared again. But there was no stopping the flying MGB GT of Roger Tushingham and excellent young navigator Amy Henchoz as she pushed her driver on, the pair flew through the test.
End of Leg3: Another lady navigator doing well is Amy Henchoz sitting alongside driver Roger Tushingham in their MGB GT. "We hit all the controls but we just came out of one TC on the same time a little quick but the other car was fine with it. We had a good day."
At 9pm last night Amy texted me that she'd dropped 2s in 3 regularities; let's say they were short sections of 4 controls each, that's 10 controls that the crew hit bang on time, and two with just 1s adrift, over a distance of say 15 miles. That's quite good really!
End of Rally (Leg5):
- Four teams achieved gold medals, amongst them a young emerging star navigator, Amy Henchoz.
- Watching the speed of MGB GT driver Roger Tushingham in the tests on private land suggested he had a really good navigator who knew how to make the calls. Not only did the young and relatively inexperienced Amy Henchoz sitting alongside him know how to navigate, she also has a calm disposition. When many experienced navigators around her were losing their way and maybe their cool in the daunting Loch Ness Monster at night, Amy found all the controls. "We were 15 seconds up into a series of nasty hairpins when we stopped to check if Elliot Dale and Charlotte were OK as they had stopped. We lost some time but got within our minute at each control for the whole regularity. We nailed it!"
Amy is not quite as famous as another lady competitor on Le Jog this year, not yet! Former DTM and Dakar star Ellen Lohr absolutely raved about Le Jog which she knew and had followed in the past due to it's reputation. Ellen has been here with Thomas Geiger, Ralph Wagenknecht and Berit Bremer taking part in a Classic Mercedes-Benz 280GE, or G Wagen as we know it from 1983.
#################
The results went final around 1500: Roger & Amy took the clean sweep of 1st in class, 1st overall, Gold Medal - wonderful performance from the 3 of them.
I've just spent 20' forwarding all the email congratulations to her, from both the Old Guard and the Young Turks.
#################
Of course, whilst we were heading to Wales to enjoy ourselves as rally groupies, in the GGR Susie Goodall was wallowing in 5m southern ocean seas wondering whether she would be rescued. Happily she was efficiently lifted off her dismasted Rustler36, and is heading to Argentina now on the MV Tian Fu.