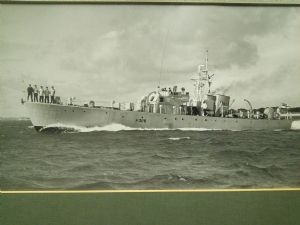 And what is the photo doing? We met Amy at my Aunt's house in Lincolnshire to celebrate Thanksgiving (Amy has an American passport), and as we left my aunt requested that I find out about my uncle's time in National Service: I guess he must have been Sub Lieutenant, and this is his rather lovely Ford class Seaward Defence Boat HMS Ickford, pretty much brand new when he joined her.
Whilst on the topic of HMRN, we have been enjoying the series on HMS Queen Elizabeth: whilst so much has changed, so much is wonderfully the same. We also caught another program following a destroyer on Channel 4 (I think), and a reference to teaching matelots Jack Speak - which is reassuring that the shipboard patois continues.
Staying at sea, the news that Susie Goodall's Rustler36 has been dismasted in the Pacific ocean, just as the storm was abating to give her fair wind towards the Horn. She was unconscious for a while, and reports that the hull is fine, and the deck still fully attached; the mast has been carried away entirely after pitchpoling when her drogue parted. There's a ship 400miles SW of her, which is about 2days away. She's currently heading NW at about a knot as the storm drops to 45knot winds (that's a Force9), and she says she's bruised and cut, but fine otherwise, and wants a cuppa tea - but the stove is dead.
That wonderful endurance event Lands End to John'o'Groats (LEJoG) starts on Saturday. Scrutineering and signing on is tomorrow, and Amy is catching a lift with Kevin Savage after presenting her final year Thesis to the Geophysics department this afternoon.
Emma & I will be manning the Time Control at the Hundred House Inn from 0001 Sunday till 0200 (Shropshire).
If you're on the Western side of the country this weekend, well worth having a look at the Spectator Points listed on the website.
Next week is looking pleasingly calm in the workshop, so we'll do another workshop video for our YouTube Channel, and also put some more NOS/unobtainable parts onto our webshop.
It looks like we shall wind down the business in 2023, so this 1000m2 of classic Volvo parts will disappear forever during the next decade: we shall try to find a home for as much as we can, but inevitably I can't see anyone buying this huge stock of parts from us, so if you think you need something for your car, don't leave it too long!