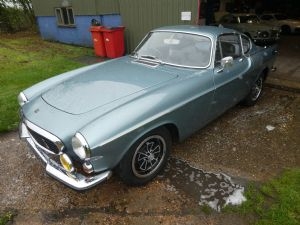 We've had James' beautiful P1800E (one of a brace he owns) in for suspension and brake hose replacement, plus sorted out the cold start.

This latter was amusingly simple in fact. Sure enough the Auxillary Air Slide was operating cleanly, so that wasn't the problem. So I removed the garden hose linking the AAS to the air bypass in the plenum, and sure enough the revs rose accordingly.
It transpires that the garden hose had constricted in the heat, and was restricting the airflow from the AAS, therefore the cold start idle was not rising as required: proper hose installed, everything working well!
I hope the photo does the car justice: ordinarily I prefer originality to whacky paint jobs, but this colour (is it Aston Martin DB4GT?) looks perfect, and is what Volvo should have given it.

Delivery Expectations

We heard from a recent customer that a competitor had said to him "Oh, they're servicing it? You won't see that again for a few months".
This is very peculiar, since anyone who works with us knows that we set a date, we expect to see the car on (or before) that date, and we handover precisely at the date given when booked in. Usually less than 14 days.
I suspect that the competitor quoted was thinking of another garage, and not us at all.

B20E engines

On the topic of servicing P1800E's, all owners of B20E and B30E motors must remember to lube the Auxillary Air Slide.
Engine warm...
Lift off the top hose revealing the moving slide of the AAS
Dribble light oil onto the unit
Allow it to cool overnight
This should keep your AAS (not cheap at all) working for years to come

Rally of the Tests

There's lots of lovely photos of all the competitors: rain, sunshine, night, flying through deep fords, tearing around Kart circuits, through private forests, on Epynt and in Caerwent - the variety is lovely.
In particular here's one of my little girl receiving her "Best Lady Navigator" trophy from the boss of the RAC David Hobday.

Lands End to John of Groats

Next up, Amy is back out with Roger Tushingham (MGBGT, ready to compete again after his RotT outing) setting off from Lands End on 7th December, and with a good run should arrive at John of Groats on Sunday morning.
Endurance: this is a tough rally on the navigator in particular, who gets very little sleep until Sunday lunchtime.
The driver, to my certain recollection from 2008, can shut his/her eyes at several meal halts, as well as the 5 or 6h allotted at the overnights; but the navigator is plotting at the meals, checking results for errors at the overnights and submitting the queries.
Brilliant event though, and we'll be watching the results hourly!