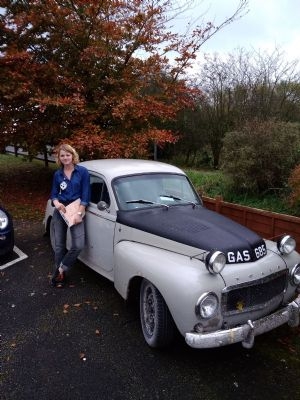 Friday 0830: depart Amazon Cars in Emma's PV544, abandoning Emma for the weekend as I head NW to the Devil's Own Rally

Lots of interest in the car all 350 miles, particularly at the stops

1530: arrive in Kendal, Heaves Hotel
1600: measured mile all completed, back to Heaves to await Amy's arrival from Liverpool
1700: Amy has to check my measured mile
Saturday 0900: through scrutineering, signed on, Amy plotting
Then into a very good half day of rallying, but the fun really started as dusk fell and the second half of the event

Two very deep fords
wonderful long section through Grizedale forest
terrific road sections
lots of enthusiastic locals supping their wine and cheering us on, even at 2200

Harvey (144) came 24th, consistently quick throughout the year, achieved

4th on Test Times

, ie quicker than a few Porsches and a host of RS Escorts
We finished a pleasing 14th, after dropping 3' during the latter stages

firstly we were baulked by a car seeded a little higher than us
then we stopped to pull Team Whyte (Maestro) out of the ditch: they'd pulled over to let a competitor through, and gently subsided left into said ditch
we got confused by a drive, stopped, looked at it, drove on 800m, drove back, turned around again this time went 820m to find the control: ugh!
drew into the final time control, convinced ourselves we'd made a mistake, and returned to the same control 4' later...

Noel Kelly (132 Amazon) sadly retired with alternator failure in the late stages of the event
Peter Humphrey (PV544) also retired about the same point, no idea why
Keith Jenkins (122 Amazon) came 18th
Phil Wood (P1800) came 23rd
Notes on the PV544's performance

I had deleted two of the quad front shock absorbers for this event. My theory was that I hadn't driven competitively in many months and would need to be able to drive around the Special Tests, rather than hitting the handbrake on the tight bits.
Well, it sort of worked. However the car is simply so much nastier handling without Joghinder Singh's modification that those quad shocks are going right back on. I shall just have to become more reliable on my handbrake turns!
Cibie Oscar auxillary lamps are really a bit pathetic, even with uprated builbs. Kevin Savage recommended Britax L27's, and I think he says they fit in the Cibie bowls, so we retain the period look.
I fitted the standard OE Bosch distributor for this event, to please the scrutineers. It worked perfectly well, even in those deep fords, but just too retarded (due to running a leaded fuel ignition curve with unleaded petrol). The 123 is just so much nicer, and I would argue that it should be acceptable, since we all have to run on unleaded, why force us to use OE ignition curves?
The navigator's door window let go at dusk, I'm fairly sure it's the wire/chain that has parted. Luckily it was a very warm evening on Saturday, and pretty much dry...
I had been muttering about fitting the standard cylinder head (in place of the SuperFlowed one it currently has), since my theory is that it could well perform better at low revs whilst accepting the loss of performance at the redline. However that engine is just so perfect and glorious that I cannot touch it: if it ain't bust, don't fix it!
Thankyou to the marshals who leaned over their midnight plate of meat & potato pie to comment how perfect it sounds: he said that it launched strongly, then clearly revved cleanly all the way through to the gear change. Many competitors cannot get their car to launch cleanly as the engine bogs down below 4500rpm.
I've now abandoned GAS 685 (our PV) in Cheshire, and brought Amy's MX5 home to fit the sump & gearbox guard, sort the tripmeter sensor, and fit the repaired Brantz timer... We'll swap them back when we head out to Wales to wave at Amy on the LEJoG rally in December.
Next up is the Rally of the Tests in a couple of weeks: Amy is out in Paul Dyas' Amazon, I'll be sitting in Gareth Hockridge's Amazon...
As for the wonderful epic that is the Golden Globe Race, recent events are (from a British perspective)

Loic Lepage has safely abandoned his Nicholson 32 (a design I rather would like to find for myself) and is on his way to Argentina in a Japanese container carrier. Having been dismasted, the mast then holed the yacht beneath a water storage tank, so not much chance of stemming the flow, Laaland was then scuttled.
Susie Goodall has been very exciting to watch: last week we saw her heading WSW, ie downwind and in the wrong direction: all manner of catastrophic theories occurred to us in our armchairs. Three days later she resumed course and earlier this week explained that beating into the wind with confused seas was crazy and very risky, so she turned downwind till the seas had sorted themselves. She's now got a favourable broad reach on stbd tack doing a shade under 6knots.

Incidentally the yachts are using the same tracking system that we used on the London2CapeTown rally back in 2012: YellowBrick