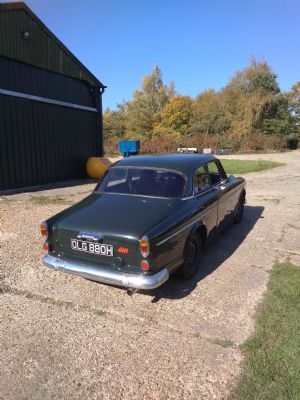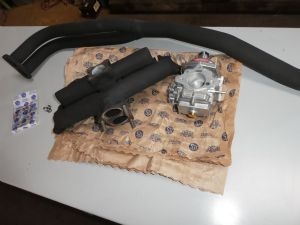 Lots of vehicle movements this week...
Craig collected his 123GT on Monday, and called yesterday to say how delighted he is with the new engine (in stock factory guise)
Marcus collected his P1800S on Tuesday, no feedback on this one yet.
John delivered his 121 for some routine work, and said how delighted they are with the engine we built last year - absolutely stock B20A motor, so it pulls like a train from low down.

The second photo shows John's investment in Zircotec'd manifold & downpipe, and the rebuilt Stromberg

Will collected Amy's 132 rally Amazon today, just as well my little girl wasn't here since she would definitely have shed some tears. Will knows his Amazons, I think he said that he's had three of them.

And I have to publish his email, since it's such a relief that "Olga" has gone to a good home...
"Very good to meet you today and thank you for picking me up in Diss . So Olga . Well , I have just had a terrific run back home in what must be one of the best driving Amazons in the country . It is so positive to steer and the engine is so willing that I found myself pulling back on the throttle as it just seems to want to rev and rev .That, coupled with lovely supportive seats and a firm but resilient ride makes for a car that one could become seriously fond of ! I shall try to keep her up to standard and use her as my car of choice for a while . We are off to Normandy in November for a light hearted navigation event, so I shall see how we get on . Please apologies to Amy, for me taking her car away from her and wish her well with the mx5, another really rather good car and very different from an Amazon, which is probably a good thing . Anyway, God bless all at Amazon cars and keep up the good work . Very best wishes, Will."

Expected to disappear within 10 days

Trevor should be collecting Mike H's pale blue PV544 rally "YAF" on Saturday
Nathan may be collecting his Amazon at some point
Mike & Lorna should be taking the dark blue PV544 rally "UG" home (with it's trailer) next week, and out on the Rally of the Tests in November

Amy will be navigating on the same event in Paul Dyas' Amazon
I'll be navigating in Gareth Hockridge's Amazon - I feel bound to say that Amy could well show me the way home, she's currently on pretty good form!

Amy & I will be competing in 10days, in Emma's PV544 on Saturday afternoon & night: the Devil's Own rally up in the Lakes.
Our Anderson 22' came home from its mooring on the Orwell River, always a sad event that another year has passed by!