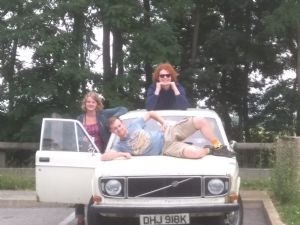 So, last week's rally results are all in, here's the round up of one Volvo and 2 Volvo-related crews...
Amy and Roger Tushingham came home 11th overall on the Classic Marathon (MGBGT)

62 starters
7 days of competition
On day 7 they were comfortably ahead of the 10th placed car, and punching for 8th overall, then a lunchtime tyre change, and the subsequent 3 wrong slots till they realised that with new tyres the trip was now reading significantly low, so they were passing the junctions before the trip meter told them to react. Now that's one that navigators can spend a whole career and never see!

Mike & Lorna Harrison came in 2nd overall on the Trans America after several weeks of competition in their "new" PV544

Rather dreadfully, their wiper motor died on day2 - which has been a thorn in the side of this car despite being replaced! I reckon it's fully sorted now...

Rob & Simon Heath (Porsche 924) were out on the East Anglian and failed to match our seeding by a country mile, on what was an excellent CMC event.

26th overall
RegA was nice, and surprisingly controlled from my navigator's seat
RegB was straightforward coloured road junctions: after TC1 there was a yyy yyy - so myself and at least 4 other navigators identified the two junctions correctly and promptly chose to go round the loop that connected them, rather than the straight line. Sadly TC2 was at the second junction so we WD'd (Wrong Direction) with the attendant 300 penalties; apart from two controls our maximum penalty into a control was 5s and frequently 0s, so you can see the problem!
Why? You ask, quite correctly - none of us know! Quite bizarre, and I suspect my offending colleagues are like myself, and haven't WD'd in well over a decade...
RegD was London Road Book, so 20 odd preplotted coordinates north of Billingford Mill, then we received a sheet at 30s before the start listing the order to visit them - straightforward stuff, sorted before the first junction and speed changes flowed pleasingly.
Reg E and F came after lunch, and I clearly was going off the boil. F was half plotted, then the final tulips were handed out 30s before the start for Plot&Bash again - fairly straightforward and pleasing navigation. The speed changes were going swimmingly giving us 1s or 0s into every control before we passed under a railway south of Diss, I got unsighted and called 3 wrong slots in quick succession, all of which Simon manfully got us back on time again, eventually arriving at the TC +17s, which was heroic given the quality of instructions from my seat!
After the penultimate TC of the event I spotted a tricky bit of mapwork ahead, and still wrong slotted for about 1/4 mile, so back we tracked but couldn't make up the time - all the while we had occasional misfire as the dwindling fuel slopped away from the injection pump.
As for the lunchtime Tests at the airfield, they were excellent: fast (3rd gear in the Porsche), flowing, easy to call from the navigator's seat.
Oh, and the Battle of Britain squadron flew over, the Lancaster being easy to spot although not many competitors looked up.
So, Amy flew back from Greece on Sunday afternoon, drove to her Grandparents in Woodcote to switch her Amazon for the fully loaded 145, then caught the 0400 ferry this morning to France: she and 2 housemates are heading off to the Alps for 5 weeks of climbing. We shall meet up with her in late July as she wends her way East to meet us near Fontainebleau.