...but Amy's Amazon 132 did!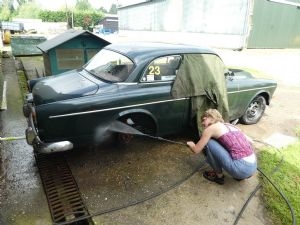 Friday lunchtime saw Simon leaving Amazon Cars in his 924, Amy ensconced in the navigator's seat, headed for the Hughes Rally in Kent - Amy marking up the last map for spotheights as they left.
Now here's the timeline...
2000 Phone call from Amy: scrutineering and signing on all sorted, the radiator has just dumped it's contents on the hotel carpark
In fact the radiator has been leaving an ever expanding stain on the workshop floor for nigh on a year, so this was in fact Simon's oversight: gaining rally experience all the time!

I advised letting the AA have a go, but try chewing gum first

2200 Phone call: the AA (and chewing gum) have failed - it seems like a whole seam has let go
2210 Get Amy's Amazon 130 out of the workshop (reverse lights seem oddly dim), now just to put this into perspective...

Amy has done 6 events in the car since last I inspected it, one of the them the very harsh "061"
It has been her daily driver in Liverpool, and the "climbing fraternity bus" for trips to Wales, Peaks, & southern Scotland
So it has only had the usual daily checks on it since November
We would usually do a full service immediately after every event

0030 Arrive at the hotel in Kent
Added a bit of oil (last checked In Liverpool just after the "061"), and handed over the car. Then remembered my wallet and got Amy back out of bed
0130 AA Relay arrived, and spent 20' doing very little, with his back turned to me. Losing patience, I requested him to face me, and tell me his plan. At which point the spec-lift was in fact rigged and we got going.
0305 Arrived at Chelmsford BP services, informed by AA man that the next contractor was on his way
0400 Text from the AA that the "contractor has been delayed"
0430 - 0630 Several calls to the AA "he'll be there in 10'" is the reply each time
0730 Contractor arrives, and tells me that the AA didn't even call him till 0530, coincidentally the minute he goes onto the cheaper daytime tarif
0930 Arrive home in Suffolk
That's 13.5h from the point of calling AA Relay, to arriving home 110 miles later, only slightly quicker than the Royal Marines' epic yomp in the Falklands.
In subsequent conversations I have learnt that this is the AA's standard practice now, which is very sad to hear having been a member since I was at university 33y ago.
As for the erstwhile Amazon team: they had a good outing considering the lack of practice they've both had
Embarrasingly they failed scrutineering on Saturday morning: no brake lights, as I suggested that a boot wire had come loose, or check the fuses under the bonnet, Dave Hughes rescued the moment and found the dead fuse - they sailed through scrutineering.
The RH reverse lamp wire had fatigued off the bulb holder and earthed, blowing that fuse, hence my lack of reverse lights 10h earlier.

15th overall
10th on Regularity performance
22nd (I think) on Test performance - which is Simon's best result I believe.
Now both Amy and I are quite proud of this, of the car, of it's standard of preparation, of our commitment to compete despite adversity. As Amy said on Sunday - the thought of not finishing an event, or worse still not starting an event, is just too horrific - it just isn't the spirit of what we do motorsport for.