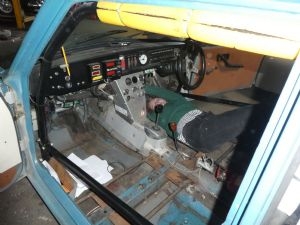 Work on returning the 142 to road use has progressed, the photo of Amy deleting the plumbed in fire extinguisher system shows "us" getting truly stuck into the task!
We've been using Emma's 121 Amazon quite a bit recently, and as ever it is a delight to be in. We had spotted a 130 on ebay a week ago with what appeared to be 215/55R16's tyres fitted - no wonder the poor chap was selling it, it must have been awful to drive.
The new 40y MoT law has come into action, so that leaves us with only 1 vehicle that needs MoT'ing. However I suspect that we shall continue to MoT all our vehicles, since Spurling&Remblance are particularly good at spotting suspension issues before they become critical.
Amy's 132 cat2 rally car will be up for sale later in the summer: she tends to be navigating for other drivers on Historics, and understandably wants something more competitive for Targa Rallies (which are 98% modern vehicles) - sad to see it go, especially as the rally wiring is so very beautiful.
She's competing in the Hughes Rally tomorrow, with Simon in his 924 Porsche; then I'm out with Simon in 2 weeks on the East Anglian - it seems a long time since any of us competed: one rally lost to the snow, one lost whilst Amy was in Africa, leaving only one event so far this year, which isn't ideal. The poor PV544 has yet to compete since its dowsing on the Salisbury Plains on New Year's Eve!