Holiday Hours during the festive season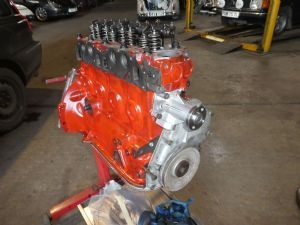 Firstly however, here's a photo of Constant's B20 engine, built for Peking2Paris in 4y time. We're trying a new idea: whilst it's a full blown high lift balanced motor, we have not gas flowed it.
My theory is that P2P rarely is spent at the redline (where gas flowing is a significant benefit), but most of the time is spent at peak torque mid revs, so by not gas flowing it we should raise the gas velocity in the inlet tracts and therefore get a nice lift in torque.
We shall review this as soon as the motor is installed (mid 2019), and announce our findings, since this will knock several hundreds off the price of a fast road engine.
Opening Hours

Closed
Saturday 22nd to Wednesday 26th December
Probably Open 0930 - 1230
Thursday 27th & Friday 28th December
Open again from
Wednesday 2nd January
I'll be out competing in Norfolk (SCCoN Stanta Targa Rally) with Simon Heath in his Porsche 924 on Saturday 29th, whilst Amy will be out in her "new" MX5 with Niall Frost in the navigator's seat.
And a big thankyou to you, all our customers and suppliers, who have made 2018 such an enjoyable year: it's a delight to be working in this specialised field.
I plan to provide dozens more videos during the coming months for posterity, so if you spot a glaring omission in the coverage, let me know and we can schedule a recording session at the next opportunity.
Thankyou from all of us at Amazon Cars: Emma, Rob, and Jess-the-spaniel