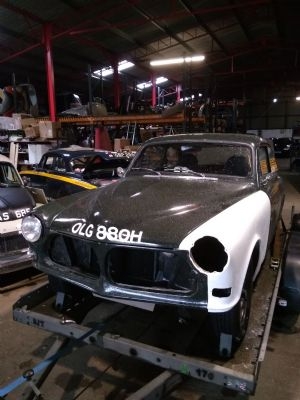 Busy couple of weeks has seen good progress in the workshop, and I suspect we shall be seeing cars collected this week, which is always preferrable to watching them languishing in the workshop.
Craig's 123GT, with new (stock) engine and titivated paint job is a delight. We're just waiting for the remaining 165 Michelins to arrive so we can replace the tyres: the rears have sidewall cracks.
Marcus' P1800 is still sitting here waiting to be collected, with its new timing gears, and fully working rear light clusters and horn.
Amy's 132 is out at Brian Huggins' having its LHF inner wing and rear panel made good, removing the corrosion in both. Then it's off to Nigel to be resprayed before handing over to Olga's new owner.
James' B20 132 brakes are all sorted, plus a couple of other tasks in its remobilisation. We have his 185/65 tyres ready to go, just awaiting delivery of the 4.5J wheels to fit them to.

Interestingly will built this B20B engine 15y ago, and it's still wonderfully sweet and a delight to drive.

Mike & Lorna's PV544 is on the ramps, as we work through the worklist from their TransAmerica rally, before they head out on the Rally of the Tests in November.
The fuel tank filling arrangment is very poor on this car (not my work), since it has a severe kink in the filler run, immediately followed by foam filler in the neck of the tank, so refuelling is comotosely slow; also Mike tells me that on twisty sections there's significant fuel smells, which may be due to the filler hose. So we'll take a run down to Demand Engineering in Stonham to get a neater stainless connector fabricated, and I've removed that top bit of foam also.


Amy will be navigating on this event in an Amazon, as will I also!

I'll be navigated by Amy in Emma's PV544 this weekend, on the Vale of Clwyd. Guy Woodcock's routing is always a wonderful challenge: get your tripmeter spot on, and belive it, and all will be well; however, should you choose to take the junction at 3.01 miles, instead of the farm gate at 3.02miles, and you will go wrong! As we have done in the past...

The last time GAS 685 was out was the Winter Rally, when we drowned out in very deep water on the Salisbury Plains, so whilst I changed all the fluids early in the year, we'd better put some miles on the car before Friday.

And sailing: the Golden Globe continues to throw up the unexpected, which is not unexpected really!

The favourite, Phillippe Peche, having retired from the race (but continuing in the cruising class), has sadly been revealed as less than honest in his use of the satphone (not permitted), and has been excluded from the event entirely. "Interpreting" the regs is something all competitors must do to stay on top of their sport, but this had to be a horrible error of judgement. I'm definitely not sitting in judegment, I can't imagine what it must be like to spend 2 months without company, and I certainly wouldn't be thinking logically in such matters either.
Are Wiig, who has been very enjoyable to follow, was dismasted a couple of days ago after inverting (a B2 knockdown, presumably) and losing some of the cabin glass. He sounds in good spirits, and apologetic that he has therefore got to retire from the race.
Susie Goodall continues to make excellent progress, and there has been no more mention of her chainplates lifting (the deck fittings that the mast supporting shrouds are attached to).